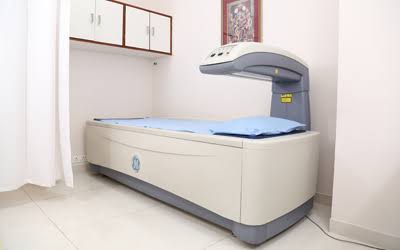 Bone Densitometry is a fast, safe and painless test that uses advanced technology called DEXA (Dual Energy X-Ray Absorptiometry) to measure symptoms of osteoporosis — such as low density and mineral content of bone — that may have developed unnoticed over many years. Because osteoporosis can result in bone fractures that can cause chronic pain, disability and loss of independence, it is important to begin treating osteoporosis at an early stage. Bone densitometry can detect the early signs of osteoporosis so that patients can begin treating it before a debilitating fracture occurs.
During a comprehensive DEXA bone evaluation, a patient lies comfortably on a padded table while the DEXA unit scans one or more areas of his/her body, usually the spine or hip because they are particularly prone to fracturing.
Comprehensive analysis in a cost-effective system
The DPX* NT offers you a full-size, pencil-beam, bone densitometry system that helps you to cost-effectively protect your patients' vitality. It comes with easy-to-use enCORE software applications that help enhance clinical efficiencies and promote precise, confident diagnoses of osteoporosis and fracture risks. A comprehensive suite of bone density applications, as well as total body composition analysis, helps to broaden your service offering.
The Lunar DPX NT offers you the following benefits:
VALUE
The DPX NT provides you with a full-size, pencil-beam system that can fit inside an eight- by 10-foot room. It also offers features to enhance clinic efficiencies, delivering value to your practice and patient care.
COMPREHENSIVENESS
The DPX NT offers a full suite of standard bone mineral density applications, such as AP and lateral spine, DualFemur, forearm, total body, pediatrics and orthopedics. It also provides you with total body and body composition assessment capability.